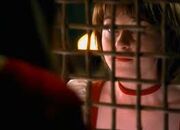 Professor Priscilla Persimmon Periwinkle is Marnie's literature professor at Witch University. She has worked undercover to arrest the Dominion for ten centuries and it was she who stripped their powers along with their families' at the end of the fourth movie. According to Professor Periwinkle, she and Aggie had been friends since the beginning times of Halloweentown, although this may be that Marnie looked exactly like Aggie and she may have only met Marnie and they became friends as Periwinkle helped Marnie get up to her grandmother's room.
Appearances
Edit
Ad blocker interference detected!
Wikia is a free-to-use site that makes money from advertising. We have a modified experience for viewers using ad blockers

Wikia is not accessible if you've made further modifications. Remove the custom ad blocker rule(s) and the page will load as expected.