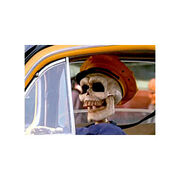 Benjamin C "Benny" Deadman is a skeleton taxicab driver, who likes to joke a lot, although they are not funny as he thinks.
This character has been voiced by different actors throughout the series. Benny was voiced by Rino Romano in the first movie and by Richard Side in the second movie while the person voicing him in the fourth movie was uncredited.
Appearances
Edit
Halloweentown (1998)
He get possessed by Kalabar's evil magic sometime after Aggie and Gwen are paralyzed and goes after the Cromwell/Piper kids. However, when Kalabar's magic is reversed, he is returned to normal.
Benny falls victim under the Grey Spell and becomes a boring version of his usual self (and also gets a flesh-and-blood body). But returns to normal when Dylan casts the reversed spell to undo his transformation.
He does not appear in Halloweentown High. 
He drives Marnie and Dylan to Witch University. Benny's full name is revealed when Marnie travels back in time to visit Splendora Cromwell.
The latter's of Benny's full name are in alphabetical order (B,C,D).
He makes an appearance in all the movies that actually feature Halloweentown itself; he didn't appear only in Halloweentown High.
He possibly as old, or older than, Agatha Cromwell and Professor Periwinkle.
Since he's been around for centuries, he considered everyone a kid.
Ad blocker interference detected!
Wikia is a free-to-use site that makes money from advertising. We have a modified experience for viewers using ad blockers

Wikia is not accessible if you've made further modifications. Remove the custom ad blocker rule(s) and the page will load as expected.